Written By Jennifer van Gennip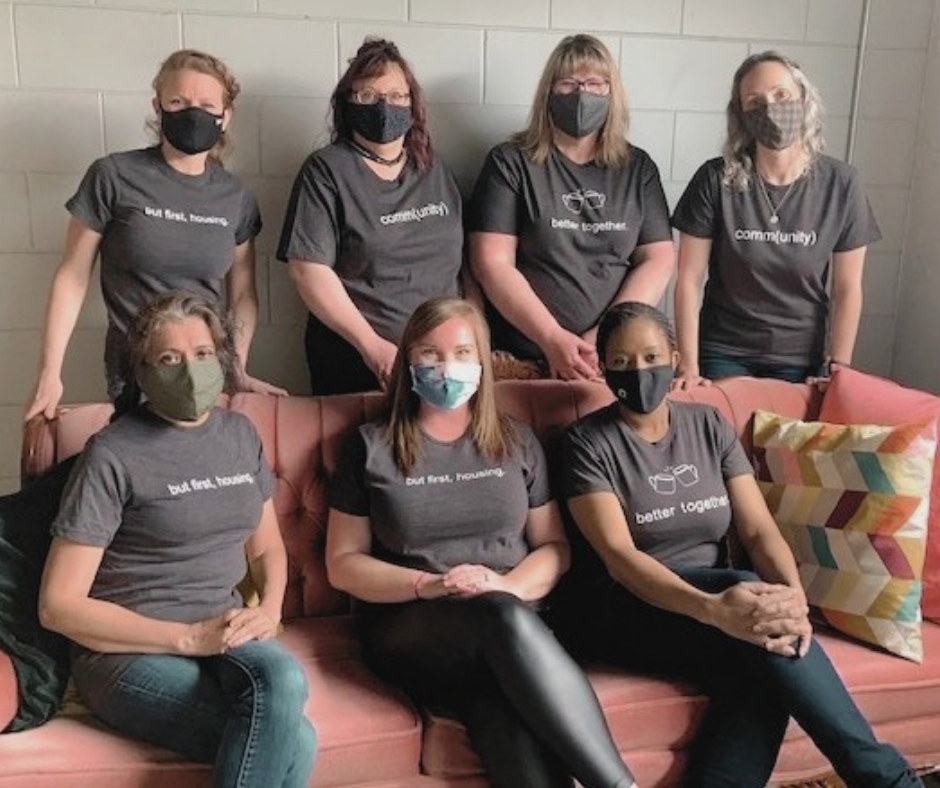 At Redwood, we believe that safe, affordable, hopeful housing is the first step in breaking cycles of violence, abuse, poverty, and addiction. 
We also believe that people grow best in supportive community. 
Our Community Support Team builds a community of support for current, former, and future residents, volunteers, and our broader community by creating spaces, connecting people with local support services and agencies, and providing practical and emotional side-by-side supports.
One of the vital components of our approach is peer supports.
Peer support is an evidence-based practice, proven effective across various settings. Being supported by someone who is a little further along a very similar journey to your own is invaluable, whether you are a patient with a new diagnosis, a caregiver of a child with complex needs, or a person rebuilding their life after a traumatic event.
Peer support happens organically, especially in the living room at United House, where women share stories, tips, and life hacks with each other. But we wanted to be very intentional about including peer support as part of our team, so we also hire women who have been at United House and moved on, who wish to draw on that lived expertise to come back and support others.
Our Peer Support workers help our residents navigate difficult systems based on their own journey, sharing wisdom gained through their own experiences. In many cases, there are transitions that our other staff members are perfectly capable of assisting with: they know the forms to fill out and the processes to follow. But our Peers are just simply better tour guides because they have done it themselves. Transitions like moving from Ontario Works to employment, starting a small business, applying to college as a mature student, or changing the kids' schools 2-3 times in the same year as they move from the shelter, to United House, and then on to their permanent housing.
They also have great advice to share, from making the most of a box of food from the Food Bank to dealing with family members of ex-partners, because they have worked through these challenges first-hand.
Our Peers also sometimes provide rides, and they are happy to hold a baby or watch a preschooler when moms need a little break or have an appointment.
You may notice that many of these practical supports are the same things we talk about our other staff providing. That's why it is important for them to be compensated as such.
Having Peers on our Community Support Team brings value to our residents so we prioritize it, but as a society we have not traditionally valued this type of lived expertise.
Our residents benefit not only from the practical support our Peers provide, but it is also really healthy for them to see someone who has navigated similar challenges and moved through them – the challenges are real but they don't last forever. 
Offering paid peer support positions is also helpful to the Peer themselves, even if just for a season as a bridge to returning to the workplace. We have one former resident who lived at United House, came back as a volunteer, and then was one of our first hired Peer Support workers. We quickly recognized other skillsets and she has now transitioned into another full-time role at Redwood. We hope she stays forever, but if not, she has work experience to add to her resume and glowing employer references for whatever is next for her. 
This Giving Tuesday, we are raising money specifically for peer supports. This includes a Living Wage for our Peers, funds available to pay them to bring their lived expertise to conferences and community meetings, and to fund training opportunities as well. We hope you also recognize the value of lived expertise and support this initiative on Giving Tuesday.
​When I started the non-profit After the Curb I never thought that one day I would be working as the Managing Director of Barrie's first Furniture...